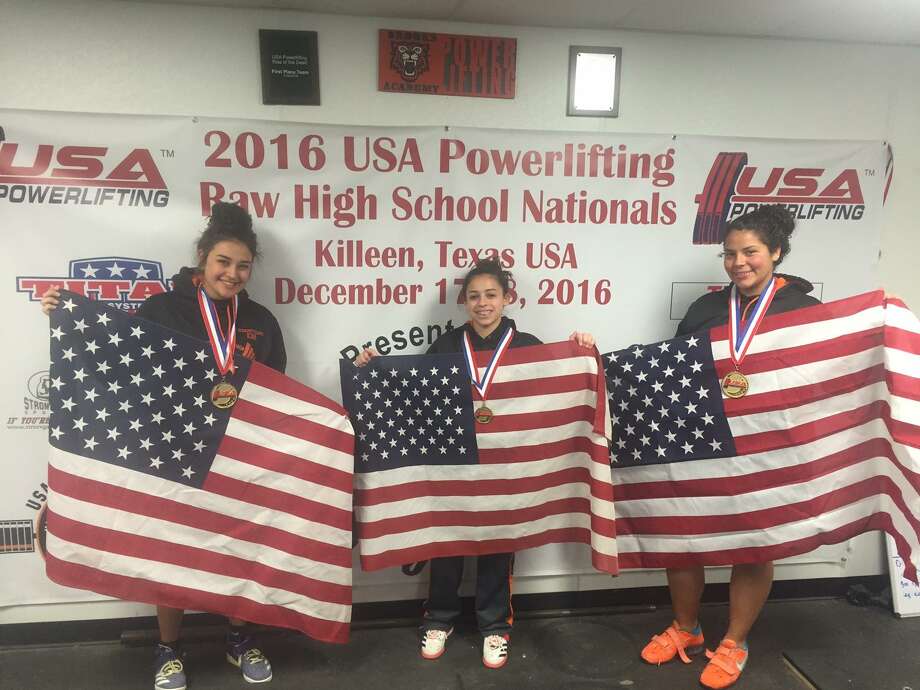 Camel cigarettes will "give your throat a vacation." The Segway will change how Americans live. Johnny Manziel will revolutionize and dominate the NFL.
All of those assertions — from a 1950s magazine ad, Jeff Bezos and me, respectively — have turned out to be wrong, wrong and remarkably wrong.
While we're at it, here's another boneheaded blast from the past: Women should not, could not and will not lift weights.
As luck would have it, no one thought to mention any of that to modern teenage girls, including three world-class lifters at the Brooks Academy of Science and Engineering on the Southeast side.
Later this month, Samantha Heimer, Nallely Gutierrez and Liszette Ortiz-Rosado, all of whom rank at the top of their divisions, will travel to Potchefstroom, South Africa for the World Open Equipped Bench Press Championship.
"Equipped" refers to a stiff, supportive, outer shirt worn over a jersey by competitors. Lifting without the overshirt is called "Raw" or "Classic" powerlifting. After the South African competition, Ortiz-Rosado will travel to Finland in May for the World Open Classic Bench Press Championship.
Heimer and Gutierrez are 17-year-old seniors. Ortiz-Rosado, 16, is a junior.
Together, the trio hold 130 combined world, national, state, regional, AAU and Junior Olympic records.
Head powerlifting coach Juan Garcia has built a girls-dominated team that routinely brings home trophies from every meet they enter.
And it doesn't end there.
When Garcia's girls and boys finish at Brooks, the best lifters have powered their way to a college scholarship.
"My students have earned a total of $1.2 million in athletic scholarships," Garcia says proudly. This year, colleges have offered his kids a total of $480,000 in scholarships.
Ortiz-Rosado, Gutierrez, and Heimer have all accepted scholarship offers to lift for Midland University, a private liberal arts school in Fremont, Nebraska.
Garcia was coaching other sports at Brooks and felt weightlifting was a better, more purposeful use of his time.
He began the program eight years ago, buying equipment out of his pocket. Slowly, as the team grew and experienced success, administrators started to send money his way.
Today, the team has its portable building behind the school. The school provides shoes and lifting equipment for the powerlifters.
"Powerlifting is a journey," he said, explaining that a competitor can tangibly chart his or her progress, independent from what any teams accomplish. In that way — solitude while working as a team — powerlifting teaches life lessons.
In Heimer's case, it's been an astonishing journey.
"I started bench pressing 125 pounds," she said. "I was ready to quit. I didn't think I could do it."
Now, she's bench-pressing 365 pounds.
Gutierrez went from a freshman best of 95 lbs to 285 today. Ortiz-Rosado went from 65 pounds to 235.
Garcia's three-star athletes got into the sport the way many kids find their true sport's calling — by accident.
Ortiz-Rosado was emulating her older sister, who lifted in high school when Liszette was in elementary school. She would come to school with her sister for the team's 5:20 a.m. workouts. Ortiz-Rosado joined the program in middle school, which is the earliest Garcia accepts lifters.
Heimer and Gutierrez were lifting weights as part of their volleyball off-season training before their freshman year. They discovered they loved weightlifting more than volleyball.
"I liked lifting," Gutierrez said. "I liked feeling strong."
To get overseas, at the cost of $3,500 per lifter, the girls have been raising funds by peddling water at intersections and via other fundraisers. The Brooks Development Authority topped off the fundraising efforts to make sure the girls could make the trip.
And what of the now-debunked stigma of weightlifting? What of the worry that lifting would fundamentally change the girls for the worse?
Said Heimer: "I think it makes our dads proud."
Article originally published here: Brooks girls flexing their way to global competition