A new place to walk, jog, bike and enjoy the outdoors is coming to the Southside. The Greenline – a $10.6 million, 43-acre linear park – is set to open at Brooks on Saturday, April 14. San Antonio's newest urban greenspace will provide connectivity to more than 15 miles of walking, jogging and biking trails stretching from the historic missions through downtown and The Pearl and up to Brackenridge Park, connecting the mixed-use community to the San Antonio River.
"We could not be more excited to have this great space opening here at Brooks," said MixFit SA owner Giselle Calvillo. "Spending time in green space positively affects mental and psychological health, as well as overall wellbeing. It also gives us another great space to create fun fitness programming and opportunities for our community."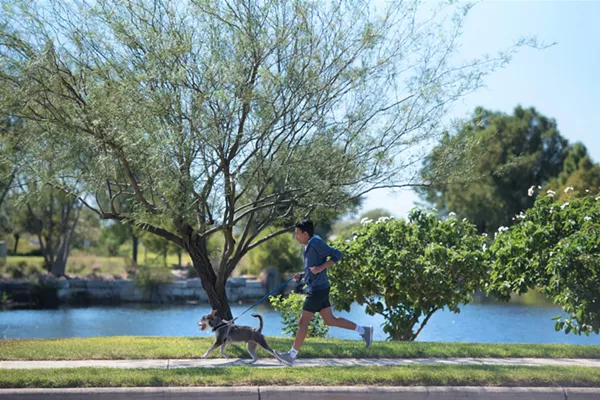 Whether you're looking to get fit or just want to enjoy some time outdoors, the Greenline has something for everyone. Stretching through the heart of the Brook campus, the space features one mile of illuminated hike and bike trails and 1.5 miles of jogging trails, a fitness station, a giant play structure, a food truck court, one large and three small pavilions available for rent, two restroom buildings, areas for outdoor games, a lake for fishing, Wi-Fi access, six plazas and a great lawn.
Poised to become one of San Antonio's most popular weekend destinations, Southerleigh Brewing Co. announced plans to open its second San Antonio location in an 8,043 square-foot space along the Greenline by fall 2018.
"This park is a dream come true," said Brooks President & CEO Leo Gomez. "We could not be more thrilled about the opportunities The Greenline will offer here on the South Side. In addition to serving as a gathering spot for our community, it will help us attract employers and fuel job creation by providing amenities that enhance quality of life."
The Greenline also features public art installations, including a 35-foot tall sculpture entitled "Running with the Moon," that depicts a boy running with a moon-shaped kite of butterflies. Created by Dallas-based Brad Oldham sculpture, "Running with the Moon" utilizes butterflies to depict the transformation of Brooks over the past 100 years. The butterfly concept carries the Brooks story so well, that the Greenline also features a collection of eight cast stainless steel butterflies that range from 3 feet to 6 feet in length. These accessible artworks, with whimsical faces, round bodies and extravagant wings are called "Brooks Butterflies."
Brooks will celebrate the grand opening of the Greenline on Saturday, April 14 by hosting the inaugural Greenline Experience – an outdoor festival featuring live music and family-friendly activities from 10:30 a.m. to 2 p.m. The Greenline is located at 2532 Sidney Brooks and is open to the public daily from 6 a.m. to 11 p.m.
Learn more here: bit.ly/TheGreenlineExperience.
Article originally published here: Brooks to Open 43-acre Linear Park