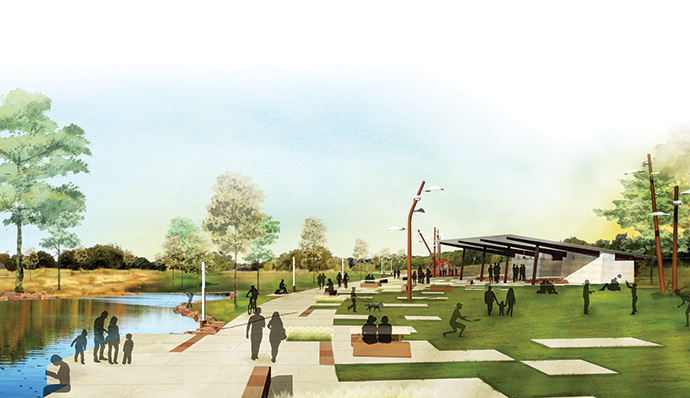 This spring — nearly 100 years after the first hangar was constructed for what would become Brooks Air Force Base — an aerodynamic new name landed at the 1,300-acre property: Brooks.
A survey showed that most people still thought Brooks was a military installation, even 15 years after its closure. But the area today is a living and breathing mixed-use development home to, among other things, a hospital, a full-service hotel, a medical school and K-12 charter schools. As Brooks President and CEO Leo Gomez put it in announcing the name change, "We're not an island anymore."
Nor is San Antonio itself. The U.S. Census Bureau noted that more people moved to San Antonio in the year ending in July 2016 (24,473) than moved to New York City, Dallas or Houston, as the seventh most populous city in the nation rapidly approaches the 1.5 million mark. SA Tomorrow, the City of San Antonio's comprehensive plan, estimates that Brooks and its surrounding neighborhood will grow by another 17,000 jobs by 2040.
Gomez sees Brooks as Exhibit A in demonstrating the value of public-private partnerships. Such an approach "can truly make things happen where they otherwise might not," he observes.
Happy Customers
Solar panel maker Mission Solar, Mission Trail Baptist Hospital, DPT Laboratories, VMC and Bridge PTS are among the 32 businesses calling Brooks home. They welcomed a new member to their club in late 2016, as Nissei Plastic Machinery America Inc. will construct a $20-million production facility and technical center.
"This new location will support improved customer satisfaction with faster delivery and response times when modifications are required, enhanced customer service capacity with on-site inventory, and shorter lead times compared to orders shipped from Japan," said Hozumi Yoda, president of Nissei Group. Nissei leaders cited the state's tax structure and the area's proximity to major automotive clusters in the US and Mexico as factors. Teamwork with the San Antonio Economic Development Foundation and the San Antonio Free Trade Alliance played a key part. But just being there really cinched the deal.
"The Nissei executives directly told me they decided it was going to be Brooks when they drove around and saw we were caring for the trees," says Gomez. "They saw our 43-acre linear park under construction and the opportunity for their workforce to enjoy all of that, including living within the campus, and having suppliers stay in hotels on campus. At the end of the day, incentives didn't play a key role, because they outright purchased the property to build their own plant."
"We had a new-employee orientation this morning," says Mission Trail Baptist Hospital President and CEO Eric Schmacker, "and I told them, 'I love coming to work every day and driving onto Brooks.' It's a beautiful environment to work in."
"You don't need your ID to get on campus, but the bartender may ask for it when you order a signature Paloma cocktail at Nineteen 17 Bar & Restaurant."

–Manuel Villa, Chairman, Brooks Board of Directors, on Brooks' evolution from military base to live-work-play community
The same goes for entrepreneurs. Giselle Calvillo, founder and CEO of MixFit San Antonio, was born and raised on the South Side. "This area has been underestimated for too long," she says. "We are an educated, thriving community, with a wonderful history and great potential for growth. My team and I are from this community — this is our dream, our passion, our goal, and here we are."
CommonWealth Coffee House opened inside Mission Trail Baptist this spring. "Brooks is a growing community and unique market that we see with endless potential as the leadership team continues to attract and incentivize development," says co-owner Jose Ramon Campos.
Championship Caliber
In February, Industrial Group Southwest (IGX) announced it will develop, construct and lease the first building of the proposed six-building Brooks Business Park. Ron Mills, president of IGX, says his firm expects above-average job growth in the area. And they're betting on it: IGX has 12 projects moving forward in San Antonio (twice as many as the rest of Texas) and Brooks is prime among them.
"We look through our tenants' eyes," he says, noting that the lack of real estate taxes on the Brooks campus means a reduction of about 25 percent in operating costs. "The first thing they're going to look at is proximity to buyers and customers." Mix in affordable labor with maximum job training incentives and minimal turnover. Why minimal? Because they're happy living and working in a convivial environment where amenities are three minutes away, not 15.
As a former San Antonio Spurs and Toyota manufacturing executive, Leo Gomez knows what it's like to be around greatness. Today, girded by $23.4 million from a just-approved $850-million city bond issue, he has that same feeling of being on the brink of something big.
"In 2004, the value of the 2,500 acres that encompassed the Brooks tax increment zone was $36.8 million," he says. "Everything that has occurred here in the last 15 years has taken it to $607 million last year. There is $1.5 billion in economic output from these acres, and we still have 750 acres to develop.
"It's a community on the verge," he says, "of becoming what we all envisioned it could become."