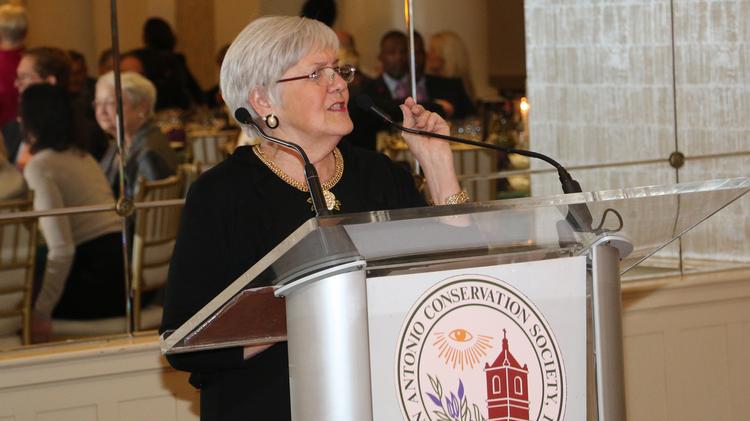 The
San Antonio Conservation Society
on Wednesday evening hosted its 69th annual Historic Preservation Awards, which honors local developers, architects, craftsmen and others who have played a significant part in preserving and redeveloping some of San Antonio's most important historic structures.
At the dinner held at the San Antonio Country Club, the Conservation Society gave out several awards and honors, including 10 Historic Building Awards for excellence in redeveloping historic sites around the city, and individual awards for excellence in preservation, including the Amanda Cartwright Taylor Award, several Texas Hero Awards, the Lynn Ford Craftsman Award and the inaugural Bruce MacDougal Award for Young Preservationist.
Several high-profile redevelopments were honored with the 2018 Historic Preservation Award, including the downtown Maverick Apartments, which were redeveloped by AREA Real Estate; Pearl's Hotel Emma by Silver Ventures; and the San Antonio River Walk. Other award winners in this category included 2340 S. Presa, Hanger 9 at Brooks, the Hannah Landa Memorial Branch Library, the Landmark Inn in Castroville, the Malvina Nelson House in King William, the VIA Centro Plaza at 909 W. Houston St. and the Herff-Rozelle Farm in Boerne.
Individual awards for excellence in preservation went to master carpenter Joe Ramos; Lewis F. Fisher, a local author; Lewis S. Fisher, president of Fisher Heck Architects; Allison Chambers, winner of the first Young Preservationist Award and historic preservation architect at Ford, Powell & Carson; the King William Association; Bob Comeaux; Carolyn Chipman Evans, founding executive director of the Cibolo Nature Center & Farm; the late Harold Kempfer; Jean Heide; and Professor William Dupont from the University of Texas at San Antonio.
Article originally published here: SA Conservation Society honors local developers at annual awards dinner