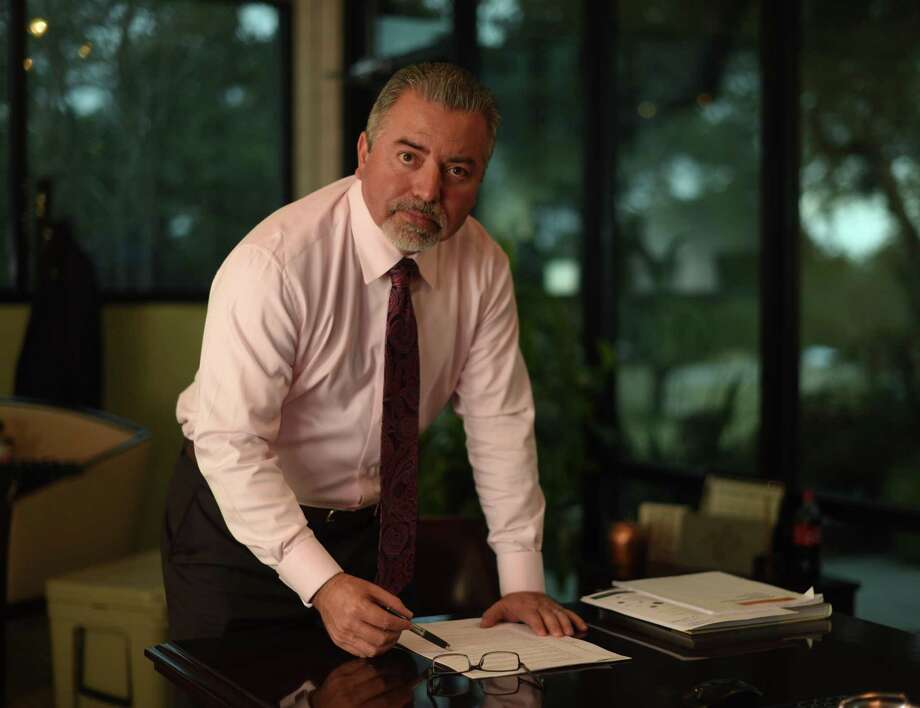 Leo Gomez saw the impact that a lack of economic opportunity has on a community during his childhood in the Rio Grande Valley, where he was raised by a single mother who sometimes relied on food stamps and subsidized housing.
His upbringing gave him a passion for rebuilding a community that has "lost its glow and its opportunities," he said. That's what appeals to him about his job as president and CEO of Brooks, the 1,308-acre former Air Force base on the South Side.
"Growing up, I saw what was to my left and to my right. And it's not how kids should grow up," he said. "I wanted to be a part of doing something to redevelop neighborhoods like that."
Gomez built his first home near Brooks in the mid-90s. He remembers wondering where all the restaurants were, asking himself, "How come we have to drive all the way across town to go to anything that's of quality?"
For the last five years, he's been trying to turn the former base into a thriving community with high-paying jobs, top-notch housing, trendy retail shops and good schools. One of his biggest challenges has been fighting the perception that those things can't be built on the South Side, he said.
He's had a lot of success so far. NRP Group, a high-profile national developer, has built two apartment complexes, and Embassy Suites has opened a full-service hotel — a rarity for the South Side. The University of the Incarnate Word opened its School of Osteopathic Medicine in the community. Some prominent restaurants are coming, including a new location of the Pearl's Southerleigh Fine Food & Bakery. Japanese manufacturer Nissei Plastic Industrial Co. is building a factory in the complex, providing a ready-made lunch crowd.
The grand opening of the Greenline, a 43-acre park connected to the Mission Reach trail of the River Walk, is scheduled on March 24. Gomez expects it to be a game-changer for Brooks, attracting more development.
To bring investors to the South Side, Gomez has leveraged the contacts he developed at the series of high-profile jobs he held before coming to Brooks.
After getting a graduate degree from the University of Texas at Austin's LBJ School of Public Affairs, he held executive positions at the Greater San Antonio Chamber of Commerce and the San Antonio Hispanic Chamber of Commerce. He served as general manager of administration at the local Toyota plant, and had two stints as an executive at Spurs Sports and Entertainment, including during the crucial years when the city and county approved the construction of the AT&T Center.
"I'm not an education expert, I'm not a finance expert. There are a lot of things that I'm not," he said. "What I am is someone who built a strong network over his career and brings people together who then make something. That's what I believe made me effective at this job."
Gomez, who is married to state Rep. Ina Minjarez and has a son and daughter from a previous marriage, sat down with the Express-News in his office.
WATCH: Business reporter Richard Webner sat down to talk with President and CEO of the Brooks Development Authority Leo Gomez. (Courtesy: San Antonio Express-News)
Here's an edited transcript of the interview:
Q: Who were your role models growing up?
A: The person that I saw my elders admire, and they all had a picture of him — I'm not talking about Elvis — was John F. Kennedy. I was an avid reader of his bios, and that inspired my first passion for being a part of public service and serving communities in a way that improved people's lives.
When I got to high school and I entered the Marine Corps ROTC program at McAllen Memorial, the JROTC instructor, Colonel Richard H. Moore, became my hero. He's the man that I looked up to, he's the one who really helped me hone in on people skills and leadership skills and a focus and a drive to get things accomplished.
Q: What have been the biggest challenges to redeveloping Brooks?
A: The biggest challenge, in a nutshell, is financing. It's really difficult for folks who don't get to know what's going on here to understand how you can justify investing significant sums of money in a corner of San Antonio where the median income or disposable income is supposedly not there.
And I say "supposedly" because that's people's perception in San Antonio, unfortunately. But I think we're showing over and over that there are market-rate-opportunity developments here at Brooks and in this corner of San Antonio that are hitting it out of the ballpark in terms of competing with their like establishments anywhere else in town.
Q: How do you persuade investors to finance developments here?
A: We need to keep showing them what we have done, despite the perception that we continue to battle.
I really don't even like to talk about it, but there is a perception held widely in our community that is inaccurate. There is disposable income, there is a desire for higher-standard opportunities in this part of our community. We want it as much as much as anybody else. Everybody's got children and wants the best for them, and the South Side wants the same.
Q: The South Side isn't thought of as a fine dining destination, but some high-profile restaurants are coming to Brooks. How have you attracted them?
A: We have 5,000-plus people working at Brooks and within the TIRZ zone. The average salary is $50,000 or greater, and most of San Antonio wouldn't predict that. There is disposable income.
They'll buy a meal at Southerleigh. They'll go get their tacos and ceviche at La Gloria. High quality craft beer and margaritas.
54th Street Bar and Grill is here. Its sales are competitive with their establishment at The Rim. That's a fact, and again, if you ask people in San Antonio, most people would probably give a wrong answer to that.
I give credit to the (South Side residents) saying "We want good stuff." So when I can bring a restaurant owner or a chef, by virtue of relationships, tell them the story and introduce them to people and show them that there's a demand here and what the average income is… then they begin to see, "Oh my God, there is a really opportunity here that a lot of people are missing out on."
Q: Some say that the South Side's growth is being held back by poor schools. How do you fight that?
A: I'm not going to ignore the fact that education is something that needs to be addressed. But it's unfortunate how perception drives things.
You have students from the South Side going to some of the best universities in the country. On the other hand, yes, is there room for improvement? Absolutely. But you have some quality schools too, and we're proud of Brooks Academy of Science and Engineering here at Brooks — STEM-certified curriculum, producing college students every year in great numbers. Now we have Compass Rose (Academy charter school) and pretty soon SAISD is building a CAST school for biosciences and medical careers — all here, in addition to the University of Incarnate Word's medical school.
Q: What is your biggest success at Brooks?
A: Partnerships, relationships.
To me, success comes from true partnerships, relationships, working together to get something done. Those partnerships and relationships have led to a medical school, to some light manufacturers, to a full-service hotel, to an incredibly well-planned, high quality of life park right through the middle of our campus, to some bona fide high standard educational opportunities.
Q: Do you think we'll ever see the amount of growth that has occurred on the North Side and West Side on the South Side?
A: I'm not sure we want that amount of growth. What we want is quality growth. High density, but respectful of the kind of development that's been on the South Side historically. So I don't envy the North Side, I really don't.
Our city is better when we have a diversity of communities and neighborhoods, but all of them should have economic opportunity. All of them have different characteristics and different strengths, and we will see Brooks established as Brooks on the South Side of town, not just a replication of something that might be somewhere else.
Q: Does that mean you'd like to see more of a controlled development down here?
A: A planned development. Respectful of mixed-use, respectful of history, respectful of true land-use plans.
Q: How is Brooks unique? How do you want it to be unique?
A: It's unique in a number of ways. It has 100 years of military history, yet it's surrounded by neighborhoods that are rich in culture but have suffered in terms of opportunity and income and education. And yet we're across the river from a World Heritage site. For God's sake, we're on the river.
Plus, we're at a major intersection for everything coming from South Texas, at Interstate 37 and Loop 410. We have Stinson (Municipal Airport), one of the best general aviation airports in the country, right across the river from us.
There's a lot to bring together. The confluence of all those things make us unique. What other corner of San Antonio can say all those things?
Quick facts on Gomez:
How do you start your day: I head for my Keurig and get a hot tea — I'm trying to wean off of coffee. Then sit down in my new La-Z-Boy as I'm flipping between ABC, CNN and Despierta América. While I'm doing that, I'm also reading the Express-News, firing some of those articles off to members of my leadership team, board members, anything that might be relevant to Brooks.
What are you hobbies: Hunting. Anything that involves nature — hunting, backpacking, hiking. It's my opportunity to get away, reflect, meditate, think about what I want us to do, sort things out, talk to God, relieve stress and come back ready and rejuvenated for another six months.
Where do you live in San Antonio: I live in the Westover Hills area. That's where I built my home originally after I got divorced 14 years ago, and now my wife (state Rep. Ina Minjarez) is an elected official that represents that area, so even if I wanted to move, it would be difficult.
What books or films have influenced you: I love watching "The Little Drummer Boy." Very much in a sense of, the awe that that little boy has for Jesus Christ. don't go around bible-thumping, so to speak, and I'm nowhere near being a holy roller, but my faith is strong.
###
By: Richard Webner, Business Reporter
Article originally published here: Texas Power Broker Gomez fights for high-scale development on South Side at Brooks